POKEMON MASTER FONT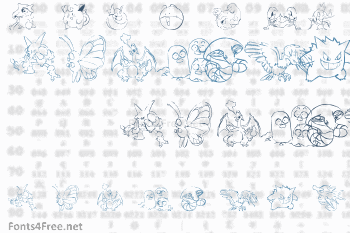 Glyphs:
62 glyphs / 62 characters
License Type:
Free for personal use
Downloads:
61 total (0 this week)

DEVELOPER'S NOTE
There are three fonts in this font family. Poke'mon Master Solid, Poke'mon Master Outline and Poke'mon Master Dingbats. In all of these fonts the same Poke'mon appear on each letter. Where I was able I used original pokemon as the lowercase letters and one of their evolutions on the uppercase letter. Also where able one of these poke'mons name begins with the letter it is attached to. The Poke'mon in this font are as follows:
0=Cuebone | 1=Clafairy | 2=Dratini | 3=Electrode | 4=Geodude | 5=Krabby
6=Magikarp | 7=Mankey | 8=Pidgey | 9=Staryu | a=Abra | A=Alacazam
b=Caterpie | B=Butterfree | c=Charmander | C=Charizard | d=Diglet | D=Dugtrio
e=Ekans | E=Arbok | f=Spearow | F=Fearow | g=Gastly | G=Gengar
h=Horsea | H=Seadra | i=Bulbasaur | I=Ivysaur | j=Jigglypuff | J=Wigglytuff
k=Koffing | K=Weezing | L=Lickitung | l=Laprus | m=Mew | M=MewTwo
n=Nidoran (Female) N=Nidoqueen | o=Oddish | O=Vileplume | p=Pikachu | P=Raichu
q=Meowth | Q=Persian | r=Rattata | R=Raticate | s=Squirtle | S=Blastoise
t=Tentacool | T=Tentacruel | u=Seel | U=Dewgong | v=Vulpix | V=Ninetails
w=Weedle | W=Beedrill | x=Psyduck | X=Golduck | y=Eevee | Y=Vaporeon
z=Zubat | Z=Golbat
I tried to pick the most popular Poke'mon, but with 150 in the original game, I'm sure I missed someones favorite.
Poke'mon the name and the characters used are copyrighted by Nintendo. No copyright is claimed or applied in this font. This font cannot be used for ANY commercial reason. Images in these letters were based on the Poke'mon images found at www.pokemon.com in the "Poke'dex" section.
FONT CHARACTER MAP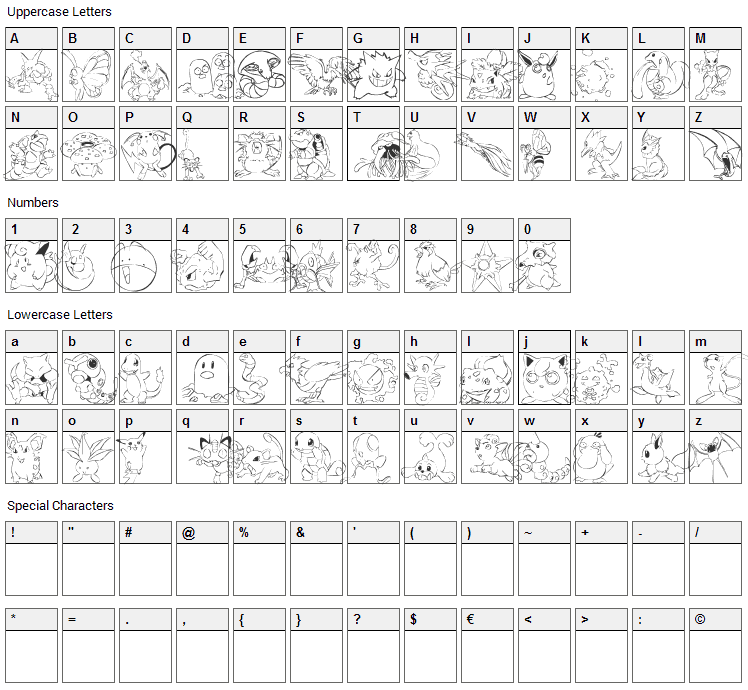 Pokemon Master font contains 62 defined characters and 62 unique glyphs.
The font contains characters from the following unicode character ranges: Basic Latin (66).
FONT METADATA
Font Name:

LMS Poke'mon Master DingBat
COMMENTS & QUESTIONS
Submit a comment, question or review about Pokemon Master font